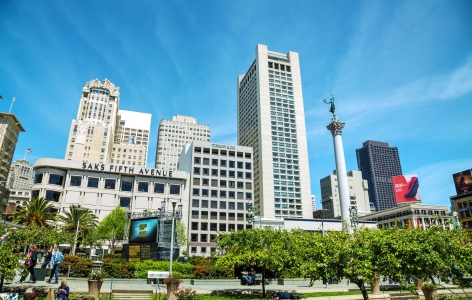 Union Square | Shopping in San Francisco
Enjoy Shopping in San Francisco at Union Square during your stay at our San Francisco Hotel.
Union Square
Category: Shopping District
Price Point: $$ to $$$
Hours:  Contact individual stores for hours
Union Square is a thriving San Francisco Shopping District, and it is home to dozens of stores, restaurants, and galleries. 
About Union Square:
Union Square bills itself at the "Crown Jewel of Shopping Districts," and it is easy to see why so many people enjoy spending a day at this spot for Shopping in San Francisco. This bustling area is filled with fabulous stores, and offers everything from national retailers to independent boutiques.
Whether you're looking for a new outfit, a new piece of art, or a one-of-a-kind antique, Union Square might be just the place to find it. When you go Shopping in San Francisco at Union Square, you can enjoy the gorgeous Bay weather as you make your way from store to store. Stop for lunch and enjoy a meal al fresco at one of the many eateries located nearby.
Some of the stores you will find when you visit Union Square are:
Barney's NY

Saks Fifth Avenue

Macy's

Macy's Men's Store

Neiman Marcus
In addition to national retailers, you will also find more than 2 dozen antique shops and art galleries including:
Gioia Fine Art

Lutece Galleria

Bond  Latin Gallery

Xanadu Gallery
Should you get hungry in the midst of all that Shopping, you'll have plenty of choices as there are several Restaurants at Union Square. A few choices include Max's Restaurant, Niji Japanese Grill, Leila Mediterranean Cuisine, and John's Grill.
Our San Francisco Hotel is located very close to Union Square and other venues for San Francisco Shopping. Planning a visit? View our San Francisco Activities Guide to get some ideas of how to spend your time during your stay.