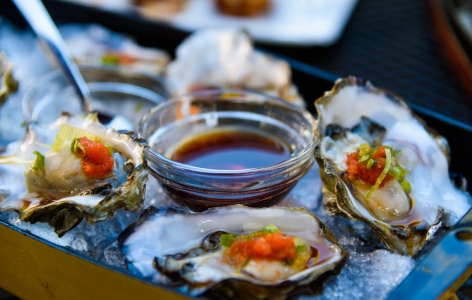 One Market Restaurant | San Francisco Restaurants
One Market Restaurant is a popular San Francisco Restaurant that many say serves the best oysters in the City.
1 Market Street
San Francisco, CA 94105
Tel: 415.777.5577
One Market Restaurant:
Cuisine: American
Price: $$$$
Reservations: Taken
Hours:  Monday – Friday - 11 a.m. to 2 p.m. & 5:30 p.m. to 9 p.m.
             Saturday - 5:30 p.m. to 9 p.m.
             Sunday - Closed
When you stay at our San Francisco Hotel, you will find many nearby spots for fine dining, an impressive wine list, and lovely views. One such San Francisco Restaurant is One Market Restaurant.
About One Market Restaurant:
One Market Restaurant opened in 1993. Since that time it has become one of the go-to San Francisco Restaurants for locals who want to enjoy a sophisticated dining experience. For guests at our San Francisco Hotel, this is a wonderful choice if you want to enjoy one of the finest Restaurants in the City.
Chef Mark Dommen's offerings are made with carefully selected ingredients and are prepared in an exhibition kitchen. You'll have the chance to watch your meal being prepared from start to finish, which enhances the overall experience of dining at One Market.
Dinner guests can enjoy starters such as Provencal Seafood Bisque, Grilled Octopus, or Asparagus Salad. Main courses such as Alaskan Halibut are Wild Nettle Stuffed Potato Gnocchi are available, but many guests opt for the Chef's Tasting Menu. The Chef's Tasting menu at One Market Restaurant includes 6 courses, and the menu changes nightly. The desserts at this San Francisco Restaurants are also impressive. Consider Upside Down Blueberry Coconut Cake, Chocolate Toffee Almond Crunch Cake, or Meyer Lemon Cheesecake.
One Market's sommelier and wine director, Tonya Pitts, has put together a very impressive wine list. With selections by the glass or the bottle, there is something to pair with every dish and the excellent wine truly elevates the experience of dining at this Restaurant. 
Valet parking is available, and it is complimentary when you dine at One Market on Friday or Saturday evenings. Plan to spend an evening at this San Francisco Restaurant enjoying fabulous food and wine, lovely views, and attentive service.
Hotel Union Square is located near this and other top spots for Dining in San Francisco. Consider setting aside a night during your stay to enjoy fine meal at One Market Restaurant.