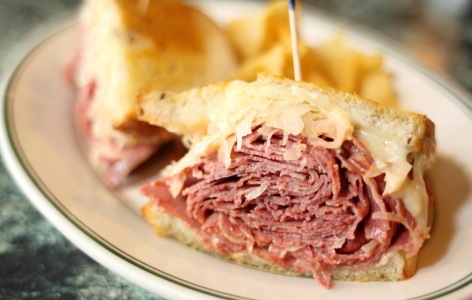 The Grove | San Francisco Restaurant
The Grove is one of many casual San Francisco Restaurants located near our San Francisco Hotel.
690 Mission Street San Francisco, CA 94104
415.957.0558
The Grove
Cuisine:  American, Sandwiches
Price: $$
Reservations: Not taken
Hours:
Monday through Friday - 6:30 a.m. to 11 p.m.
Saturday and Sunday - 8 a.m. to 11 p.m.
The Grove is a San Francisco Restaurant that offers cooked-to-order meals in a cozy, comfortable setting.
About The Grove:
The owners of The Grove want every guest to feel as if they have been invited into someone's home. The décor includes pieces collected by the owners on their world travels, and the warm and inviting feel helps to enhance the experience of dining here.
This San Francisco Restaurant is open daily for breakfast, lunch, and dinner, and the menu includes something to please just about everyone. The menu is wonderfully long, so you should plan on more than 1 visit.
The breakfast menu is filled with tempting selections like The Grove French Toast, House Made Granola, The Grove Eggs Benedict, a selection of omelets and scrambles, and much more. Many locals feel The Grove serves the best breakfast in San Francisco. They serve breakfast all day. The lunch and dinner boasts perfectly prepared options like The Grove Taco Platter, Chicken Pot Pie, Seasonal Vegetable Lasagna, and Slow Cooked Chicken with Lemon and Olives.
Enjoy dining al fresco or sit inside near the cozy fireplace. This San Francisco Restaurant is a perfect choice when you want to enjoy a delicious, casual meal without having to go very far from our Hotel.
Our San Francisco Hotel is ideally-located near this and other top San Francisco Dining spots. You'll find lots of a options just a short walk from Hotel Union Square, and many more can be reached with just a short drive or ride on public transportation. If you're planning a visit to San Francisco, view our lovely Guest Rooms and call 415.397.3000 to make a reservation.