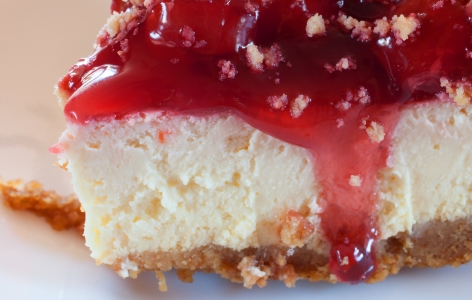 The Cheesecake Factory | Restaurants in San Francisco
Enjoy a meal or a sweet treat during your stay at Hotel Union Square.
251 Geary Street San Francisco, CA 94102
415.391.4444
The Cheesecake Factory
Cuisine:  American, Desserts
Price: $$
Reservations: Not taken
Hours:
Monday through Thursday - 11 a.m. to 11 p.m.
Friday and Saturday - 11 a.m. to 12:30 a.m.
Sunday - 10 a.m. to 11 p.m.
The Cheesecake Factory is a Restaurant in San Francisco that serves delicious food and a large selection of tempting desserts.
About The Cheesecake Factory:
The Cheesecake Factory is best known for its indulgent selection of cheesecakes, but this Restaurant in San Francisco also serves lunch and dinner, and has a variety of starters, salads, sandwiches, and entrees.
This casual dining Restaurant is a national chain, and some people would choose this spot over any other. One reason for that, as mentioned earlier, is the cheesecake. The Cheesecake Factory usually has a couple of dozen cheesecake flavors available, and special flavors are offered throughout the year.
While some locals and guests at our San Francisco Hotel visit The Cheesecake Factory just for dessert, their lunch and dinner options are wonderful. Try the Fried Macaroni and Cheese, Veggie Burger, the Incredible Grilled Eggplant Sandwich, Fettucini Alfredo, Fresh Grilled Salmon or one of the dozens of other selections.
Since reservations are not taken unless you have a large group, you will often find there is a bit of a wait. You can avoid this by coming at off-peak times. Even with a wait of an hour or so, many feel the fabulous cheesecake and food offerings are well worth it.
The Cheesecake Factory is one of the many Restaurants in San Francisco located near Hotel Union Square. In fact, one of the best things about our Hotel is our ideal location. Our guests will find that the best Dining, Shopping, and Attractions are all nearby.
If you're planning a visit to San Francisco then consider staying at Hotel Union Square. In addition to our ideal location, we offer well-appointed Guest Rooms, and friendly service. Whether you're coming for business or pleasure, our San Francisco Hotel is a perfect choice.