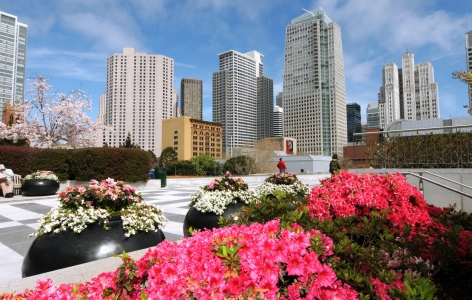 Yerba Buena Gardens | San Francisco Attraction
Yerba Buena Gardens attracts guests of our San Francisco Hotel who want to enjoy the arts or who just want to relax on the San Francisco Attraction's lovely lawns.
Downtown
Tel: 415.820.3550
Yerba Buena Gardens is a San Francisco Attraction that draws visitors of all ages. Whether you're into the arts, want a place for your children to burn off some energy, or just want to lounge around on the manicured lawns, this Attraction is a wonderful place to spend an afternoon.
About Yerba Buena Gardens:
Right in the middle of the hustle and bustle of Downtown is a grassy, artsy retreat called Yerba Beuna Gardens. Occupying 2 blocks, this San Francisco Attraction is popular with college students, families, and anyone who wants to enjoy spending time outside and soaking up the lovely Bay weather.
The first portion of Yerba Buena Gardens opened in 1993, and it has won much critical acclaim since that time. The Attraction is home to much to see and do including public art displays, museums, cafes, and more. Many who visit the Gardens enjoy simply lounging on the well-kept lawns while reading or doing a bit of people watching.
Families love to visit the Children's Garden where you will find a 100-year-old carousel, the Children's Learning Garden, and the Children's Creativity Museum. Art enthusiasts enjoy the public art displays as well as the chance to visit Yerba Buena Center for the Arts. Many special Events take place at the Gardens throughout the year including farmer's markets, and the Yerba Buena Gardens Festival.
A bowling alley and an ice skating rink are located on Garden grounds, so there are always plenty of things to do. Another interesting feature of this Attraction in Downtown San Francisco is the Martin Luther King, Jr. Memorial. Located adjacent to a waterfall, this is the largest fountain on the country's West Coast.
Hotel Union Square is ideally located near this and other top San Francisco Attractions. When you choose our San Francisco Hotel, you won't have to go far to enjoy all the best that the City has to offer. You'll find options for Dining and Shopping are close by as are top Attractions such as Yerba Buena Gardens.
Planning a stay at our San Francisco Hotel? View our current Special Offers. During your stay, spend some time exploring the beauty and culture found at Yerba Buena Gardens.