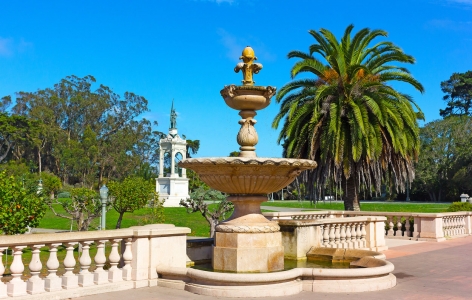 Golden Gate Park | San Francisco Attractions
Golden Gate Park is a San Francisco Attraction with lots to do and see. Pay a visit during your stay at Hotel Union Square.
If you're planning a stay at Hotel Union Square then plan a visit to Golden Gate Park. The San Francisco Attraction is the 5th most visited park in the country.
About Golden Gate Park:
Many people think only of the urban side of San Francisco, but Golden Gate Park offers an oasis in the middle of the City. This San Francisco Attraction, which opened in 1870, is 20% larger than New York City's Central Park. Its 1,017 acres offer a variety of Activities and Attractions, and 10 million people visit Golden Gate Park each year.
Whether you want to visit some of the San Francisco Attractions located in the Park, or want to spend some time outdoors, you'll find plenty of options. Head to Stow Lake where you can rent a boat and spend a little time on the water. Spreckles Lake welcomes a different kind of watercraft: model boats. Serious model boat enthusiasts can be seen trying out their latest creations and, sometimes, participating in races or other competitions.
Other popular Activities at Golden Gate Park include strolling through the beautiful gardens, taking a picnic, or just relaxing while doing some people watching. You'll also find interesting Attractions including an art museum, and much more.
Some of the major Attractions at Golden Gate Park are:
Music Concourse

Japanese Tea Garden

San Francisco Botanical Garden

California Academy of Sciences

National AIDS Memorial Grove

Spreckles Lake

Stow Lake

De Young Museum

Conservatory of Flowers

Beach Chalet
As you can see, it would take days to explore all that Golden Gate Park has to offer, so be sure to set aside some time for this San Francisco Attraction that is loved by locals and visitors alike.