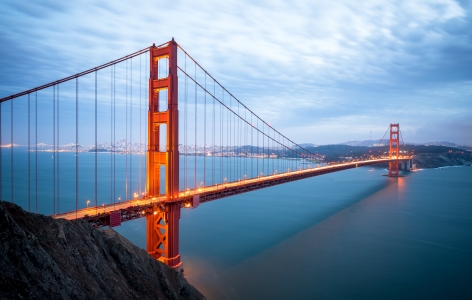 Golden Gate Bridge | San Francisco Attraction
The Golden Gate Bridge is the most recognizable San Francisco Attraction and is located a short distance from our San Francisco Hotel.
The Golden Gate Bridge is a San Francisco Attraction that is easily recognized by people around the world. Taking advantage of one of the Special Offers at our San Francisco Hotel? Then be sure to visit this engineering wonder.
About the Golden Gate Bridge:
Millions of Californians use the Golden Gate Bridge to get from San Francisco to the State's northern counties, but this San Francisco Attraction is also a globally-recognized symbol of California, and it is one of the most photographed features in the Bay area.
Construction began on the Golden Gate Bridge in 1933, and the Bridge officially opened in 1937. Before completion of the 8,980 foot long Bridge, the only way to reach the northern counties from San Francisco was by boat. The Bridge, which was named a Wonder of the Modern World by the American Society of Civil Engineers, turned it into a much simpler commute.
Today, along with commuters, the San Francisco Attraction welcomes 10 million visitors each year who come to learn about the history of the Golden Gate Bridge and to enjoy its beauty. Spanning 746' high and painted orange, the industrial-looking bridge is a stark contrast to the natural beauty of the Bay that surrounds it.
Visitors to the Golden Gate Bridge can walk across using the pedestrian sidewalks or bike across on a bike rented from the nearby Sports Basement. Both walking and pedaling across this San Francisco Attraction offers gorgeous views. For even better views, stop by one of the Bridge overlooks.
The Visitors Center features exhibits about the history of the Bridge. Stop by before or after you cross the Bridge to learn fascinating details about the construction and renovations of the Bridge.
A walk across Golden Gate Bridge takes about an hour and is 1.7 miles in distance. Set aside a day to visit this iconic San Francisco Attraction during your stay at our San Francisco Hotel.
Hours:
Pedestrian hours are daily from sunup to sundown.