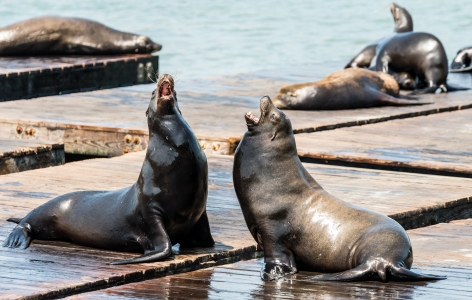 Visit Pier 39 | San Francisco Things to Do
Visiting Pier 39 is a popular San Francisco Thing to Do. Enjoy the Dining, Shopping, and more at this San Francisco Attraction.
Visiting Pier 39 is a popular San Francisco Thing to Do, and there is something there for every member of the family to enjoy.
About Visiting Pier 39:
Pier 39 is included on many lists: best Restaurants, top Attractions, best Shopping. There is so much to see and do at Pier 39 that you won't be able to do it all in just one visit, and that's ok. You'll surely want to return to this much-loved spot again and again.
Shopping
If you love Shopping but don't want to visit the typical mall, then Pier 39 is a good choice. You'll find independent shops and boutiques like Alexander's Book Store, Antiquities, Candy Baron, Global Candle Gallery, San Francisco Bath Salts Co, The Crystal Shop, and Studio Manhattan Art + Design.
Dining
Hungry? There are Restaurants at Pier 39 to suit every taste and budget. Crab House, Fog Harbor Fish House, Crabcakes & Sweets, Eagle Café, The Hook, and Swiss Louis Italian & Seafood Restaurant are a few of the many choices you'll find when visiting this popular Attraction.
Attractions and Activities
While enjoying this popular San Francisco Thing to Do, you will find many Attractions at Pier 39. Aquarium by the Bay, the 7D Experience and the San Francisco Carousel are a few examples.  Pier 39 is also the jumping off point for sailing excursions, and harbor cruises. Wine tastings, and watching the street performers are other popular Activities you'll find at Pier 39.
Sea Lions
The sea lions started showing up at Pier 39 in 1990 following the devastating Loma Prieta earthquake. At first the numbers were small, but over the years the population of sea lions at Pier 39 has exploded. During the winter, about 900 sea lions make this spot their home. During the warmer months, there is a smaller population, but a few still hang around much to the delight of visitors.
Spend an afternoon enjoying a visit to Pier 39 during your stay at our San Francisco Hotel.