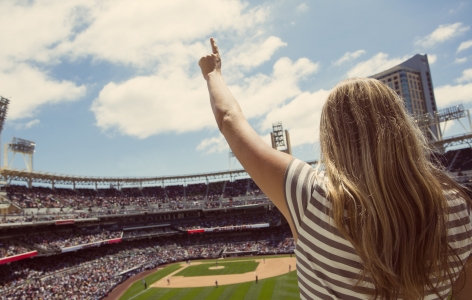 See a Giants Game | San Francisco Activities
Attending a Giants Game is a popular San Francisco Activity for baseball fans staying at our San Francisco Hotel.
AT&T Park
24 Willie Mays Plaza San Francisco, CA 94107
Tel: 415.972.2000
Spend time with locals by attending a Giants Game at AT&T Park.
About Seeing a Giants Game:
Attending a Giants Game is a popular San Francisco Activity. Many guests at our San Francisco Hotel spend an afternoon at AT&T Park watching the game, enjoying the amazing food, and basking in the lovely Bay weather.
Giants fans are still reveling in the team's 2014 World Series win. The San Francisco Giants are the current world champs and, for some baseball fans, that makes seeing them play even better. AT&T Park seats 41,503, but it is still not uncommon for games to sell out. This is especially true if a top rival team is coming, or during holidays. For that reason, we suggest reserving your tickets for this San Francisco Activity well in advance of your stay at our San Francisco Hotel.  During your stay, our Concierge will be happy to help you secure tickets, but if the game is sold out, there is no guarantee that he or she will be able to do so.
Another advantage of buying your tickets in advance is that you will have your choice of seats. AT&T Park has 5,200 club seats including 1,500 behind home plate. While you will pay a premium for these club seats, you'll enjoy the game from an amazing vantage point, and you won't miss a minute of the action.
AT&T Park is home to some of the best food in baseball, and it is especially well-loved by baseball fans who are vegetarians. That is because the park has won accolades for serving the best baseball park food for vegetarians. Veggie cheesesteaks, tofu hot dogs, and refreshing salads are a few of the options. Carnivores will also find plenty of selections that they will appreciate such as juicy burgers, and fresh seafood.
Will the San Francisco Giants go two years in a row as world champs? Only time will tell, but don't miss your chance to attend a game during your stay at our San Francisco Hotel.