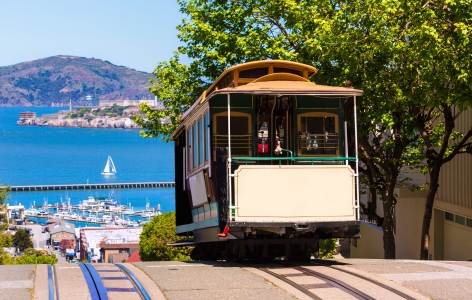 Ride the Cable Cars | San Francisco Activities
Taking a ride on San Francisco's Cable Cars is a fun San Francisco Activity near Hotel Union Square
San Francisco Cable Cars are an iconic feature of the City. During your stay at Union Square Hotel, consider taking a ride on the Cable Cars for a fun way to move about the City.                                   
About Riding the Cable Cars:
San Francisco Cable Cars came into existence in 1873, and by 1890 there were more than 2 dozen lines. For a number of reasons, including the 1906 earthquake which badly damaged some of the lines, by 1912 there were only 3 lines in operation.
Today, those 3 lines continue to operate and offer a mode of transportation that is both convenient and fun for visitors to the City. The lines still in operation are Powell-Hyde, Powell-Mason, and California Street. These 3 lines can take you to several attractions and popular neighborhoods.  A full map and schedule is available online.
When you ride the Cable Cars, there are some things to keep in mind about this San Francisco Activity:
The San Francisco Cable Cars run from 6 a.m. to 12:30 a.m.

They typically run about every 10 minutes, but it is not uncommon for the cars to be late, especially during rainy weather.

The cars often become crowded mid-route, so it may not be possible to get on every car that passes by.

Conductors are able to make change up to $20
If you love this San Francisco Activity then you should consider a visit to the Cable Car Museum. Both the Powell-Mason and Powell-Hyde have stops at the Museum. You'll be able to learn about the interesting of San Francisco Cable Cars.
Should you be staying at Union Square Hotel in July then you may have the opportunity to attend the Cable Car Bell Ringing Contest. The Event takes place either the 2nd or 3rd Thursday of the month in Union Square. Grip Men compete while spectators watch the competition and enjoy some of the delicious offerings of food trucks and local Restaurants.
Staying at Union Square Hotel? Enjoy this fun and historic San Francisco Activity.
Fares:
$5 for a one-way ticket
Passes and multi-trip tickets are also available.