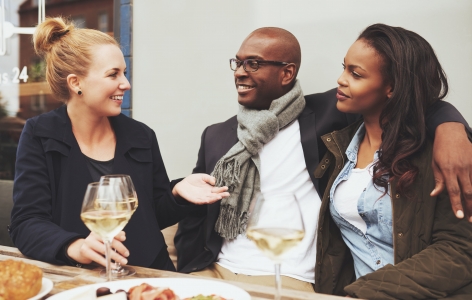 San Francisco Dining | San Francisco Activities
Dining out is a popular San Francisco Activity, and the ideal location of our San Francisco Hotel means many top Restaurants are nearby.
Looking for San Francisco Activities to enjoy during your stay at Hotel Union Square? Consider making a study of some of the very best San Francisco Dining spots.
About San Francisco Dining:
Dining out is a top San Francisco Activity, and the numerous, eclectic offerings are the reason why. Whether you're a foodie looking for the next big thing, or you just want to grab a quick bite before heading out to explore the City, you'll find San Francisco Dining spots to satisfy your craving.
The San Francisco Dining scene really does have something for everyone, and the ideal location of Hotel Union Square means that our guests won't have to go very far to try some of the City's best Restaurants. Of course, wonderful San Francisco Restaurants can be found in every corner of the City, so those willing to move about will have the most options.
It would take several visits to even scratch the surface of the trying all the best San Francisco Restaurants, but here are a few options to get you started:
Foreign Cinema

Zuni Café

Ippuku

Tadich Grill

Colibir

One Market

Farmshop

Delfini

Ramen Shop
The staff at our San Francisco Hotel will be happy to offer additional suggestions, and you can read about some of the best nearby Restaurants in our San Francisco Dining Guide.
You can even find Restaurants near our Hotel that will allow you to bring your dog along for dinner. Some of the pet-friendly San Francisco Restaurants are:
Zazie

Universal Café

Park Chow

El Rio

Place Pigalle

Kara's Cupcakes
Planning a visit? View our Guest Rooms and learn about the Special Offers at Hotel Union Square.