March 23, 2018
| By
Cindy L. Smith
You'll Find Beautiful Beaches Near Our San Francisco Hotel
Swimming, surfing, and playing fetch with your dog a few activities to enjoy at nearby San Francisco beaches.
Are you planning a leisure stay at Hotel Union? One of the best reasons to enjoy a vacation in San Francisco is the many outdoor activities you'll find nearby. Enjoy hiking, walking tours, and beach-related activities such as surfing.
Guests at our San Francisco hotel will find that they are within a short distance of the many beautiful beaches that provide the opportunity to surf, swim, or do nothing at all except stick your toes in the sand! Here are a few reasons our beaches are the best.
We Love Dogs!
Dogs aren't allowed on every San Francisco beach, but there are several were your four-legged family members are welcome to join you for a day of sun and fun. Many of the beaches even allow the dogs to go off-leash! These include Ocean Beach, Crissy Field Beach (East and West), and Lands End Beach.
...your four-legged family members are welcome to join you...many beaches even allow the dogs to go off-leash!
You Just Need to Bring Your Swimsuit
If you want to enjoy surfing, you don't need to worry about lugging your gear from home. You'll be able to rent what you need. You'll also find companies that offer surf lessons. Even if you've never been on a board, they can help you catch your first wave.
Lots of Family Fun
At some of the popular beaches in San Francisco you'll find playground equipment, chair and umbrella rentals, and nearby food options. In other words, you'll find everything you need to enjoy a family day at the beach without having to carry 100 pounds of beach gear.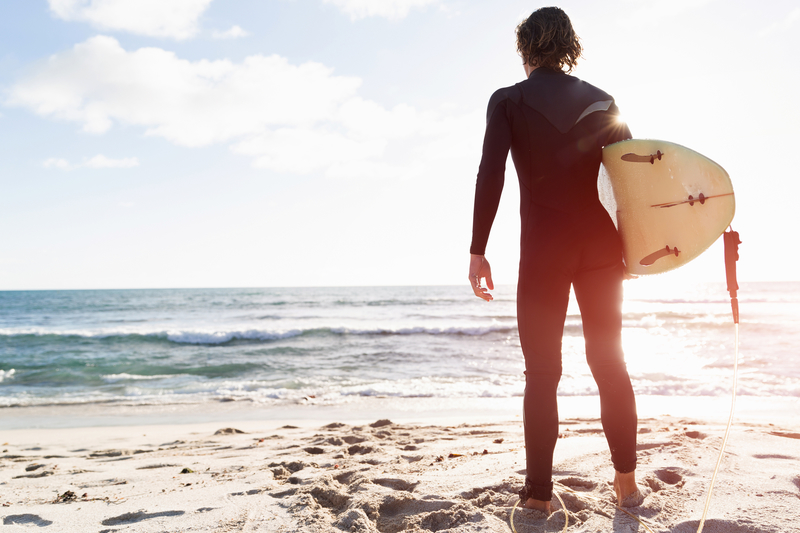 If you'd like more information about the beaches located near Hotel Union Square, stop by the Concierge desk. They will be happy to answer any questions about which beaches may best meet your specific criteria, provide detailed directions, and more.
As you make your itinerary of things to do in San Francisco during a stay at Hotel Union Square, be sure add spending a day at the beach to your list!
As you plan your stay, browse our San Francisco FAQs to read about Dining, Shopping, Attractions, and more. Also, view Hotel Union Square's well-appointed Guest Rooms & Suites and our current list of Special Offers.