March 12, 2018
| By
Cindy L. Smith
Enjoy the View from These 5 Popular San Francisco Hiking Spots
You'll find hiking trails for all skill levels near Hotel Union Square.
Looking for San Francisco activities to enjoy during your stay at Hotel Union Square? Consider taking advantage of the beautiful Bay Area weather and doing some hiking on one of the trails near our Hotel. Here are 5 popular trails that will reward you will unforgettable views.
Land's End
Up for a 4-mile hike? This is a good one that ends with stunning views of the ocean, Golden Gate Bridge and more. The hike is flat and easy enough for most hikers. You'll also see the ruins of the once-popular Sustro Baths. Bring your camera, because you'll definitely want to snap a few images during this beautiful hike.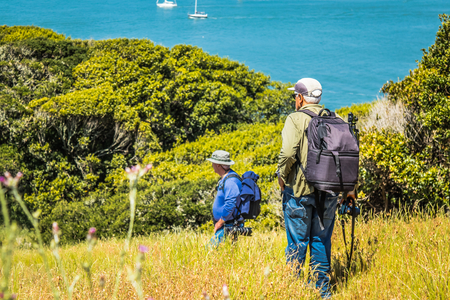 Angel Island
Your adventure to Angel Island begins with a ferry ride that departs from Pier 41. Keep in mind that the ferry only runs to Angel Island twice per day. Once you arrive, you can begin the 4.6-mile Sunset Trail trek that will, at the end, afford you with views that make all the effort worth it. There are other hiking trails on the Island, but Sunset Trail offers the best views.
Mount Diablo
In the Bay Area, this mountain claims bragging rights as one of the tallest. That means two things: 1) great views 2) a more challenging hike. Some of the steeper inclines on this 6.1-mile hike will be difficult for some, so keep that in mind before you get started. You'll be in direct sunlight during most of the hike, so hydrate, hydrate, hydrate! Once you reach the top, you'll take in sweeping views of the entire Bay Area.
Alamere Falls
What is it about a waterfall that makes it worth considerable effort to see? This one is a 40-foot stunner that, while the high point of this 7.5-mile hike, isn't the only beautiful sight. All along the cliff hiking trail, which includes some impressive inclines, you'll enjoy ocean views. Also, take a dip in Bass Lake, located along the trail, to cool off!
Take a dip in Bass Lake, located along the trail, to cool off!
Tennessee Valley
Want to get pictures that will impress your friends with your hiking prowess without having to exert much effort? This is the hike for you. The 3.4-mile trail is mostly flat, and it's one of the easier hikes on this list. Even though the hike is easy, the reward of stunning views is great!
Set aside a day or two for hiking during your stay at our San Francisco Hotel. For more information about these and other nearby hiking trails, just ask one of Hotel Union Square's helpful concierges. Whether you choose an easy hike or something a little more challenging, spending time soaking in the beauty of the Bay Area will be a highlight of your visit.
As you plan your stay, browse our San Francisco FAQs to read about Dining, Shopping, Attractions, and more. Also, view Hotel Union Square's well-appointed Guest Rooms & Suites and our current list of Special Offers.