October 18, 2017
| By
Cindy L. Smith
5 Top San Francisco Food Trucks
Try some of these top roaming restaurants near our San Francisco Hotel.
Off the Grid – Fort Mason is a weekly San Francisco Activity that brings together some of the very best food trucks in the City. While we recommend that Event, you don't have to wait for Friday evenings to enjoy the amazing food that these trucks offer! It's true that San Francisco is home to dozens of fabulous Restaurants, but some visitors find the best food truck fare to be quite impressive as well. Read about some of our San Francisco Hotel staff's favorite San Francisco Food Trucks.
It's true that San Francisco is home to dozens of fabulous Restaurants, but some visitors find the best food truck fare to be quite impressive as well.
Me So Hungry
This San Francisco Food Truck boasts some of the City's best burgers, sliders, and fries. Stop by for a Monster Burger, or try one of their more creative offerings like the PB & J Burger. Flying Hawaiian Sliders (chicken with crispy Maui onions and chipotle aioli) is another popular choice.
Sam's Chowdermobile
Yes, they have chowder, but they aren't one-trick ponies! If you want seafood then visit Sam's Chowdermobile for a luscious lobster roll, fried shrimp po' boy, or Baja fish tacos. The spicy popcorn shrimp is another good pick as is, of course, the New England clam chowder.
Hella Vegan Eats
San Francisco Dining includes plenty of options for vegans. Thanks to Hella Vegan Eats, visiting Food Trucks is also a San Francisco Activity that vegans can enjoy. The offerings at this San Francisco Food Truck are so good that even meat eaters crave them. Try the Fried Avocado, or "Chicken" and Waffles. A selection of burritos, sweets, and other animal-free fare is also available.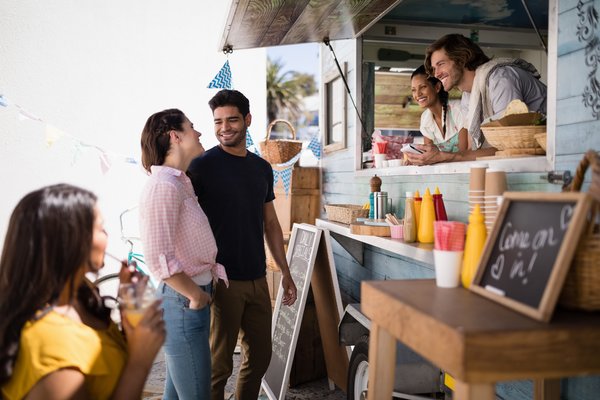 Adam's Grub Truck
Adam's Grub Truck, offering sandwiches and more with an Asian flair, is serving up all sorts of finger-licking grub. Try the Drunken Master which features drunken pulled pork with fusion BBQ sauce, Muenster cheese, and Asian slaw on a fresh toasted Brioche bun. While most of the menu items have meat, there are options for vegetarians such as the Wingless which features marinated shitake mushrooms, pepper jack cheese, a fried egg, avocado wasabi, and Asian slaw on a whole wheat bun.    
Halal Cart
New York City residents who visit San Francisco comment on how the Halal Cart makes them feel like they are at home. The menu on this San Francisco Food Truck is the same that you'll find on similar trucks in NYC. Try the rice, gyros, salads, or falafel. Whether you eat meat or are a vegetarian, there is something on this truck for you.
Frozen Kuhsterd
You may think you've had custard before, but until you try the handmade, impossibly creative, wonderfully creamy concoctions at this San Francisco Food Truck then you don't know custard! Frozen Kuhsterd has the standard flavors, but they also have a long list of specialty flavors such as Black Sesame, Port Wine Strawberry, Dirty Chai, Four Barrel Coffee, Black Milk Tea, Banana Rum, Coffee Mint Mojito, Burnt Caramel, Earl Grey Tea, and many others.
Want to learn more about the San Francisco dining scene? Read these Dining FAQs as you plan your stay at Hotel Union Square.
As you plan your stay, browse our San Francisco FAQs to read about Dining, Shopping, Attractions, and more. Also, view Hotel Union Square's well-appointed Guest Rooms & Suites and our current list of Special Offers.