January 9, 2018
| By
Jana Free
6 San Francisco Restaurants for a Business Lunch
Whether brokering a deal or entertaining a new client, you'll find great restaurants for a business lunch near Hotel Union Square.
There are many great San Francisco Restaurants that are perfect for networking and sealing the deal. In fact, you'll find a number of the top spots for a San Francisco business lunch right near Hotel Union Square. Whether you're looking for somewhere casual to meet and hash out details or a place to impress a client, you'll find it close to our San Francisco Hotel.
San Francisco's downtown area is ideal for walking, so a perfect scenario for a business lunch can be taking a short stroll a block or 2 away to arrive at a nice place for a relaxing meal. With an outstanding public transportation system however, it's definitely not unreasonable to hop on the BART or bus (or take a taxi) to get to a restaurant in the Mission or Marina for a power lunch.
No matter your food preferences, business budget, or transportation needs, there are numerous choices for a great San Francisco business lunch nearby. Here are some of the best places to meet and eat:
1. Golden Era
395 Golden Gate Avenue, San Francisco, CA 94102 | Phone: 415.487.8687
Golden Era is an Asian-fusion eatery in the Civic Center area that serves high-quality natural foods in a bright and casual setting. This restaurant offers dishes with bold flavors and no MSGs, and it specializes in the most popular Chinese, Thai, Indian and Aulacese options. Enjoy noodles, rolls, wraps and more in this downtown San Francisco Restaurant that has been hosting business lunches since 1999. You'll find Golden Era on Golden Gate Ave and Larkin Street, just about 2 blocks from San Francisco City Hall.
2. Shizen
370 14th Street, San Francisco, CA 94103
Shizen Vegan Sushi and Izakaya Bar in the Mission District features plant-based sushi, ramen and small plates in a beautiful and fresh wood-decked atmosphere. Utilizing a masterful combination of sushi and shojin techniques, Shizen creates flavorful and visually appealing dishes with ingredients like mountain yam, soybean curd and konjac. This restaurant is a gem for a business lunch and it's easily accessible via BART.
Shizen creates flavorful and visually appealing dishes with ingredients like mountain yam and konjac.
3. The Plant Cafe Organic
101 California Street (Corner of Front & Pine), San Francisco, CA 94111 | Phone: 415.693.9730
The financial district is home to many hand-shake lunches and a number of them take place at The Plant Cafe Organic. The diverse menu and comfortable ambiance of this restaurant make it a fantastic place for a business lunch. Maintain your energy throughout your meetings and negotiations by fueling up on smoothies, juices, salads and sandwiches at The Plant Cafe Organic. The cafe is one of the only San Francisco Restaurants to offer 100% organic catering services.
4. Greens Restaurant
2 Marina Boulevard, Fort Mason, Building A, San Francisco, CA 94123 | Phone: 415.771.6222
Greens Restaurant is an award-winning, iconic restaurant in San Francisco and one of the forerunners in the farm-to-table movement in the city. For more than 35 years, this upscale restaurant located at Fort Mason center has provided local and seasonal fare to locals and tourists, creating an exceptional experience for a business lunch in particular. Inspire your team to greatness or show off your city to clients by booking a table at this restaurant overlooking the Golden Gate Bridge.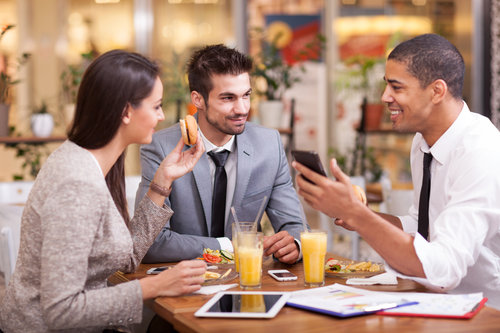 5. Gracias Madre
2211 Mission Street, San Francisco, CA | Phone: 415.683.1346
Fans of Mexican food flock to Gracias Madre in the Mission District for lunch. This restaurant boasts a long blonde-wood bar that's absolutely gorgeous and the craft cocktails served there are some of the best in San Francisco. And the patio. You must sit on the patio at Gracias Madre for at least one business lunch. Dine on farm-roasted potatoes with olive oil and garlic, tempeh chorizo with housemade guacamole and pico de gallo, tamales, enchiladas, and flan for dessert.
6. Rosamunde Sausage Grill
545 Haight Street, San Francisco, CA 94117 | Phone: 415.437.6851
For an awesome lunch in the Lower Haight, visit Rosamunde Sausage Grill. This San Francisco Restaurant often offers lunch deals like a sausage on a roll (vegan sausages available), along with 2 sides and a half pint of craft beer. The eatery produces its own German sausages that can be topped with sauerkraut and grilled onions. The vibe here is low-key and it's a great place for a quick meal.
As you plan your stay, browse our San Francisco FAQs to read about Dining, Shopping, Attractions, and more. Also, view Hotel Union Square's well-appointed Guest Rooms & Suites and our current list of Special Offers.